It's because I always feel like I need to write a fully realized, perfected, eloquent and edited blog post, and I trip myself up with my own perfectionism.
A. I'm not perfect and neither is my writing; and
B. Nobody gives a shit if it is or isn't. Except me. (le sigh)
I am literally in the bath right now after a long week of activities and people-ing. And prior to that I had a full (absolutely perfect) weekend camping in a TENT (because the van had another electrical hiccup but I still wanted to get away from the suburbs) and some long bike rides and some hiking and I don't what else. So yeah, Jade has been a ridiculously busy woman. But, to my earlier point: that's not really the reason why I haven't posted here. That's all on my quirky (some might say neurotic) head.
So.! Let's get this party started.
K is for…
Kevin. I call him K, I call him The Hypnotist, I call him Sir, but his name is Kevin. My knee jerk (trauma-informed) reaction is to use an initial or pseudonym here when talking about someone, and so I did without ever asking if he wanted me to. Come to find out he doesn't need to me to hide who he is. And he's about my most favorite K there ever was.
L is for…
Love. Love always.
M is for…
March Madness. So this is weird (ish.) Weird because I'm not a sporto, nor a gambling woman. But there's something about March Madness that always brings it out in me. And in this case, the guys really found a way to capitalize on that, by combining my weird fascination with betting on brackets with The Whack Board.
I can't explain how it all went down. I mean I literally can't. I don't remember. But the end result looked like this.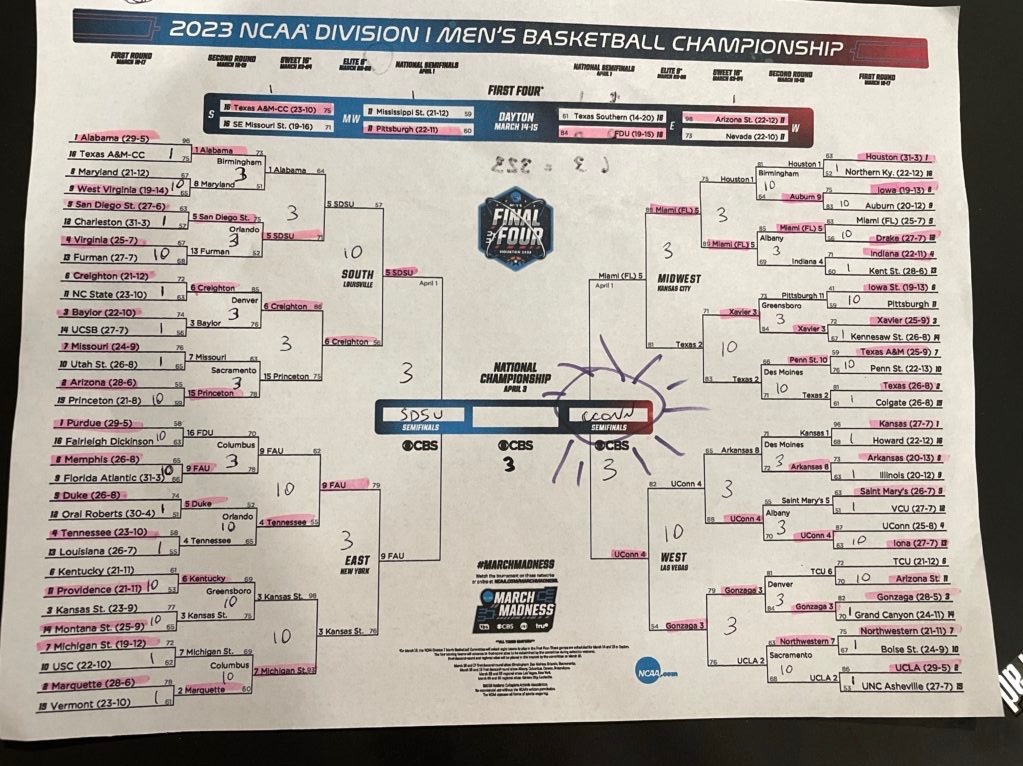 If I recall I "worked off" a few extra hundred that I had accrued on the Whack Board as well.
N is for …
Nowhere left to hide. (A kink game an old partner used to play with me.)
New Orleans.
New house smell.
Northern California.
Naturally silver/grey hair.
Nature.
Good-NATURED people.
Nipples!
O is for …
Orgasms.
Orgasm control.
Orgasm denial! (Sensing a theme here?)
Orders.
Ouchies. (Consensual ones that I don't inflict on myself. At present I have self-inflicted pain from a fall off my bike (I have mentioned what a clutz I am, right?)
Onion rings.
Organizing shit!! (In fact you might say I have an organization kink…) Except myself, obvi.